About Omkara School Of Indian Dance
At Omkara we believe that Bharata Natyam is about much more than intricate footsteps and expressive gestures.
It is about self-discovery through body dynamics and use of space, about finding joy through synchronisation of mind and body, about cultivating peace of mind through discipline, preparation and practice, which when followed regularly manifests as inner calm and abundant joy – powerful tools which enable dancers to experience professional growth and complete ownership over their art.
Dance is a very personal journey and we enjoy seeing our students from different nationalities, cultures and walks of life using their own experiences to inform their practice and make dance their own.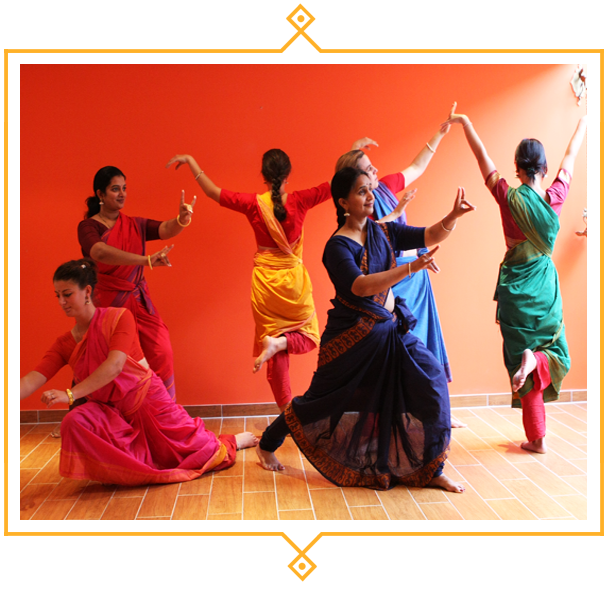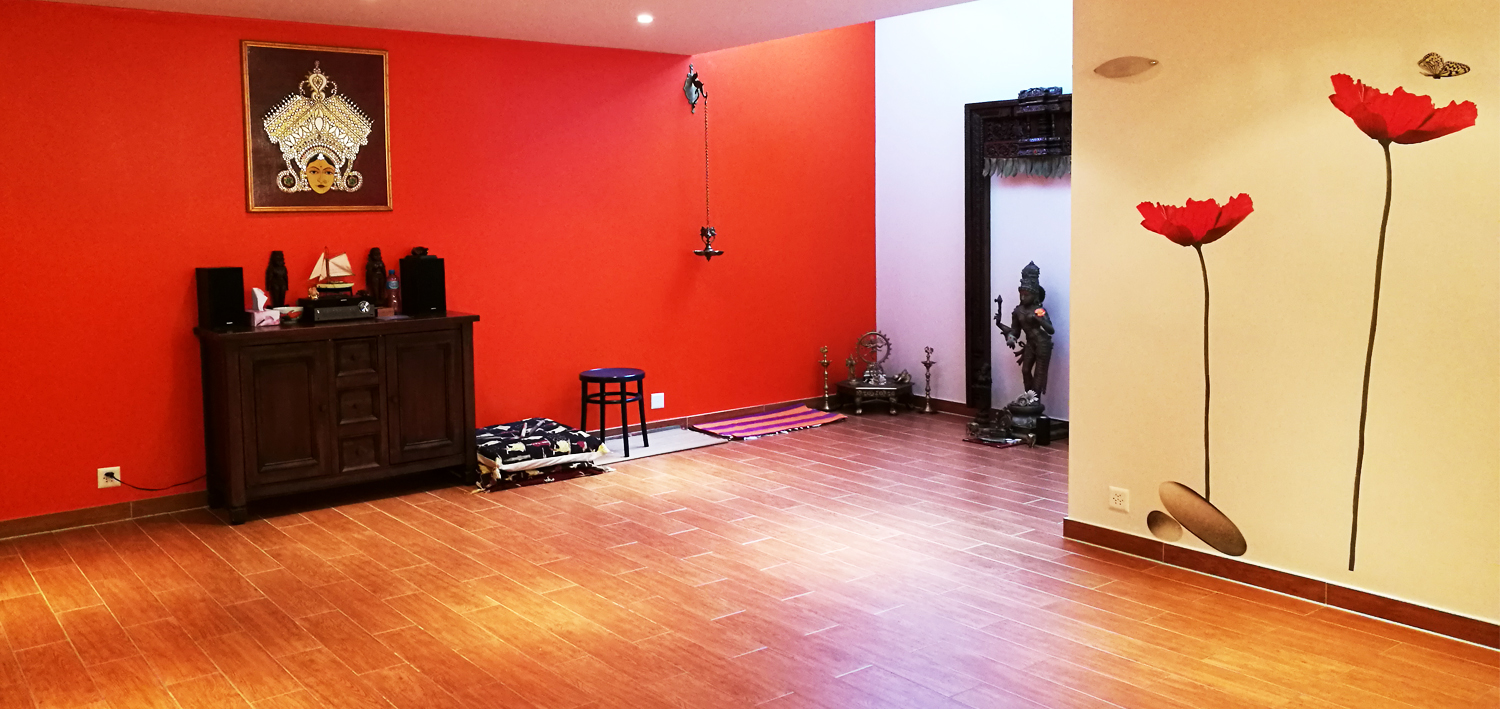 Come inside. Take off your shoes and socks and feel the cool tiles against the soles of your feet. There's a sense of stillness, accompanied by fragrant swirls of Sandalwood and Patchouli in the air. Take a deep breath in. There – can you feel the rush of your day slipping away as your mind quietens? Slide your bag off your shoulder and feel your back sigh with newly found lightness and freedom. Step into our dance hall. The warm colours are energising and revitalising like the sun. Your mind is now fully present, completely free and you're ready to dance.
About The Omkara Space
The Omkara space has been designed to introduce, inspire and encourage eager minds to explore dance movement freely by providing warm and peaceful physical environment where dancing becomes very special.
The earthy colours and calm atmosphere allows students to transition from the rush of everyday life to a space of calm and stillness where they are the focus, enabling them to concentrate completely on their practice.
"In order to understand the dance one must be still. And in order to truly understand stillness one must dance." – Rumi
About Sujatha Venkatesh
Sujatha Venkatesh, the artistic director of Omkara School Of Indian Dance, has been teaching, training, performing and choreographing since 1987 in Geneva, her work theatre.
Born and raised in Bangalore, Southern India, she received her training in Bharata Natyam under renowned Masters Sri US Krishna Rao and Smt Chandrabhaga Devi, and later Smt Narmada Rao. Today she continues to maintain a strong presence in Bangalore's classical dance scene through collaborations with leading musicians and fellow dance colleagues.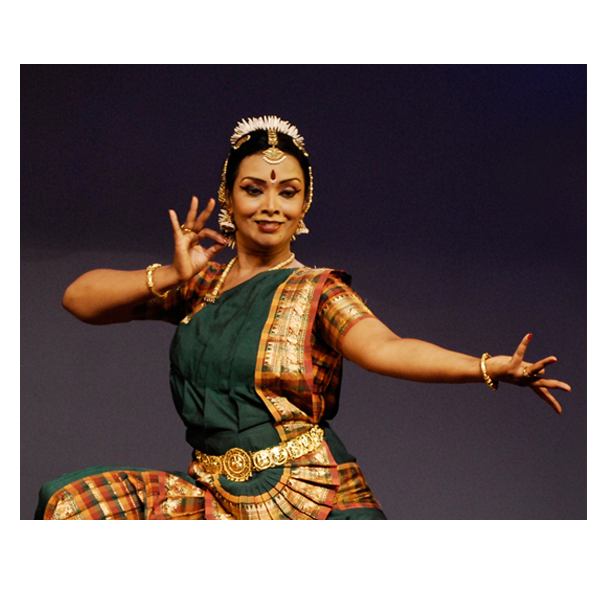 An active artist who regularly tours India and Europe, Sujatha strongly believes that performance art should not just benefit the audience but also help uplift the underprivileged, and ensures that proceeds from shows are donated to non-profit organisations and charities as often as possible.
However, giving back doesn't stop with donations and for the last 25 years Sujatha, as a master in traditional and codified body apprenticeship, has been involved in the research and clinical applications of the project: The Masters of Their Conditions: at the Crossroads of Health, Culture and Performance in Cultural Psychiatry with Dr Jacques Arpin, MD in psychiatry and anthropologist.
A few of the medical and psychiatric presentations she has co-lead with Dr Jacques Arpin include those given at The Society for the Study of Psychiatry and Culture (SSPC), the Transcultural section of the World Psychiatric Association (TS of WPA) and the World Association of Cultural Psychiatry (WACP).
"Success in any art form is not to be measured in terms of purse or personal fame, but by the magnitude to which it touches the others, particularly the needy, learner and the lay; it imparts a wonder and comprehension, appreciation and enjoyment, while it traverses its own journey in innovations and development. Sujatha has quietly and surely achieved this"
– Dr. V. Vasantashree, Managing Trustee of M.V.J.K. TRUST, Bangalore, India.
"For more than 20 years, I have had the pleasure of regularly attending shows that this company gives in schools and prestigious rooms throughout the country. The quality of this specific teaching is reflected in the grace, rigor, energy and perfection that Sujatha Venkatesh transmits in a very professional way to all her pupils, who are constantly making great and rapid progress"
– Nancy Tikou-Rollier, LA JOIE DE PEINDRE.
About Bharata Natyam
Bharata Natyam is a 2000 year old dance form which originated in the temples of Tamil Nadu, South India.
Made up of a rich language of codified hand gestures, body movements, facial expressions and intricate footwork, it is today one of the most popular Indian dances in the world. It is passed down only through lived practice, which preserves the dance form's essence, beauty and spirituality.
Consisting of beauty, rhythm, music, dance and mime, Bharata Natyam is a form of dynamic yoga and helps instil calm and confidence in oneself.
Omkara School Of Indian Dance teaches the Pandanallur style of Bharata Natyam, the lineage of which can be traced back to the Tanjore Quartet through Sujatha's masters Sri US Krishna Rao and Smt Chandrabhaga Devi, and  Smt Narmada Rao – who learnt from Sri Meenakshisundaram Pillai and Sri Kittappa Pillai (direct descendents of the Tanjore Quartet).