Omkara School of Indian Dance, in collaboration with Laya-Lasya, is excited to launch a 10 week online Natya Shastra theory workshop with renowned Bharata Natyam veteran, dancer, educator, author and scholar Guru Smt. Vijaya Marthada.
The workshop will be an in-depth exploration and study of the ten principles of the Natya Shastra:
1. Sunday 2 August
The origin of Natya & the technical terms frequently used in dance
2. Sunday 9 August
The Chaturvidha Abhinaya
3. Sunday 16 August
Aaharya Abhinaya
4. Sunday 23 August
Dasha Roopakas along with the Poorvaranga vidhi and types of playhouses
5 & 6. Sunday 30 August & Sunday 6 September
Rasa theory
7 & 8. Sunday 13 & Sunday 20 September
Nayaka & Nayaki Bhava
9. Sunday 27 September
The Natya element often seen in traditional dance-dramas
10. Sunday 4 October
The adaptation of theoretical study into practical dance presentation
When: 2 August – 4 October 2020 every Sunday, 10 – 11:30am CET
Where: via Zoom
Price: CHF 300 for 10 sessions of 90 minutes each
Registration Deadline: 25 July 2020
The maximum group size is 15 participants, and registration will be on a first come first serve basis. To book your place, please
return a completed registration form to sujatha_venk@hotmail.com. Please note: a full upfront payment will be required to secure your place on the workshop.
Important: these modules are taught as a set, however if you wish to attend just one specific lesson this may be possible at Omkara and Guru Smt. Vijaya Marthanda's discretion. Please write to sujatha_venk@hotmail.com with your specific request.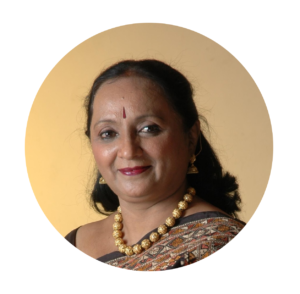 Guru Smt. Vijaya Marthanda is a wellknown dance veteran, professor, author and scholar specialising in classical Bharatanatyam and Kathak – and has over four decades of experience teaching theoretical and practical aspects of choreography and Natya Shastra.
She has taught both in leading Bangalore universities (Reva, Jain) and institutions (Natya Institute of Kathak and Choreography), as well as internationally (Bharatiya Vidhya Bhavan, UK).
 Her awards include the Karnakata Kalashree Award by the Karnataka Sangeetha Nrutya Academy in 2014, Bharata Muni Award from Nritya Kala Parishad, and Singar Mani Award at the SUR Singar Samsad, Bombay in 1980.
She's the director of Laya-Lasya, a renowned dance school she founded in Bengaluru – her home city in India.